Ginza Zenya
"Ginza Zenya" was founded in 1939 in Ginza 8-chome as a footwear specialty shop. As a specialty shop, we pride ourselves on our collection of products and our services.We pay careful attention to the aesthetics and comfort of use of each and every one of our products, and faithfully carry on the tradition of pursuing the craft of original items.We also stress the importance of change to keep our items fresh, keeping up with the colors of the ever shifting seasons. We pride ourselves on keeping up with tradition and embracing change, and we always aim to provide our customers with products that they will love.
This is an example of a traditional bag often used together with a kimono. Because it is often brought to tea ceremonies, it is sometimes called the "Rikyu Bag," named after Sen no Rikyu who is known for having had a profound influence on the way Japanese tea ceremonies are held today. It is often made using woven cloth or dyed cloth, and high-class "Rikyu Bags" are often made with "obi cloth" woven using pure silk. Because of this, traditional Japanese designs and coloring are often seen in these bags.Japanese artisans make each and every bag by hand. There are artisans that use plaited cords for the handles, back-stitching to hide the seam on the surface, and many other traditional Japanese techniques. In recent years, bags have been popping up with designs that go well with Western clothes, and now people also carry the "Rikyu Bag" not just while wearing a kimono but also while wearing Western clothes.
Another variety of Japanese bags is the "gassai bukuro." The handbag is crafted using cloth or leather, and its opening can be fastened via a cord. "Gassai bukuro" with a flat bottom are often called "shingen bukuro." In recent years, leather known as "inden" is often used to make these bags. Inden is primarily crafted by dyeing tanned deerskin and using lacquer for patterning. Inden is a commonly used traditional Japanese material, being not only used in Japanese bags but also for crafting the likes of "hanao."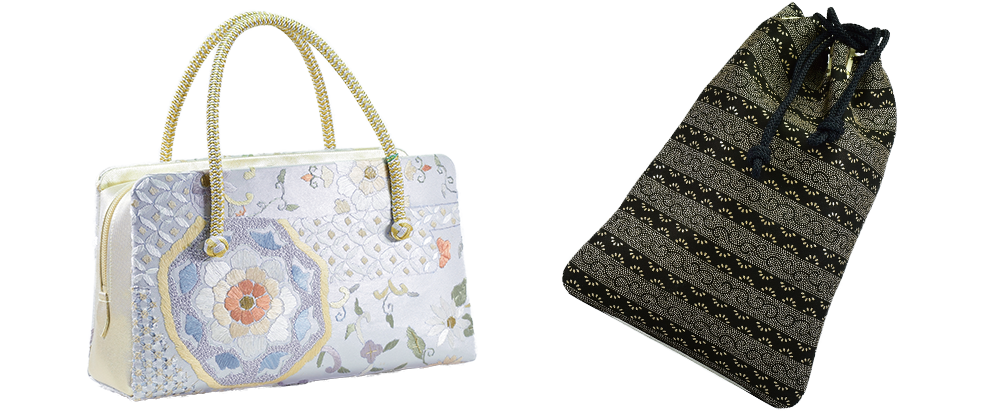 Umbrellas come in Japanese and Western varieties.Each Western umbrella is skillfully crafted by Japanese artisans in Yamanashi prefecture. They are made using woven cloth specially made for umbrellas, having waterproofing and UV resistant processing applied to it. This cloth is known as "hogushi ori" as well as "kai ori," and is known for its blurry coloring. Its beautiful designs go well with both kimonos and Western clothes, and make rainy days more colorful. Japanese umbrellas are crafted in Gifu.Oil is applied to "Washi,"traditional Japanese paper, making it resistant to water, and bamboo is used for the umbrella's ribs and handle.The decoration threads that connect the many ribs of the umbrella are quite beautiful, and serve as prime examples of Japan's traditional industrial arts.

"Geta" are a type of traditional Japanese footwear, with a cloth strap called the "hanao," and " ha," at the bottom. The wooden board upon which the wearer places their foot has protuberances that come in contact with the ground called the "ha."(There are also varieties without the ha.) The board upon which the wearer places their foot is called the "dai,". The dai mainly comprises paulownia or Japanese cedar wood. The "hanao" keeps the foot in place on the dai. The hanao is often made using hemp cords covered in cloth or leather.

"Setta" are a type of traditional Japanese footwear that are made using bamboo sheath. They are known for having "shirigane" metal in the heels. In the modern-day, they are worn often by men as a set with a kimono. During the Edo period, policemen known as the "doushin" working for the town magistrate office would always wear "setta." The sound of the "shirigane" hitting against the ground became their trademark.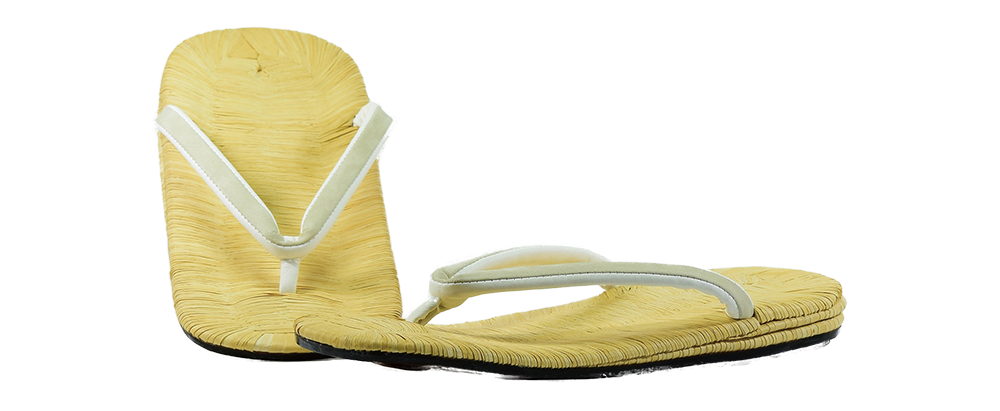 In recent years, people have started wearing "setta" and "geta" with Western clothing.Unlike Western shoes, they do not fully cover the feet, allowing for sweat to evaporate more easily. Because of this, people who wear "setta" or "geta" are less at risk for athlete's foot, and their feet also tend to smell less. Furthermore, because it is said that wearing footwear with "hanao" helps exercise the foot, people have begun making children wear "geta" and "zouri." It is said that putting "hanao" between the toes makes the wearer brace their feet, making the muscles stronger and preventing arch problems and the formation of bunions.
"Zouri" are a type of traditional Japanese footwear that have "hanao" straps. From the Meiji era onward until Western shoes became popular, zouri were worn throughout Japan.These ceremonial footwear were mainly worn as a set with a kimono, being worn for more formal occasions than "geta."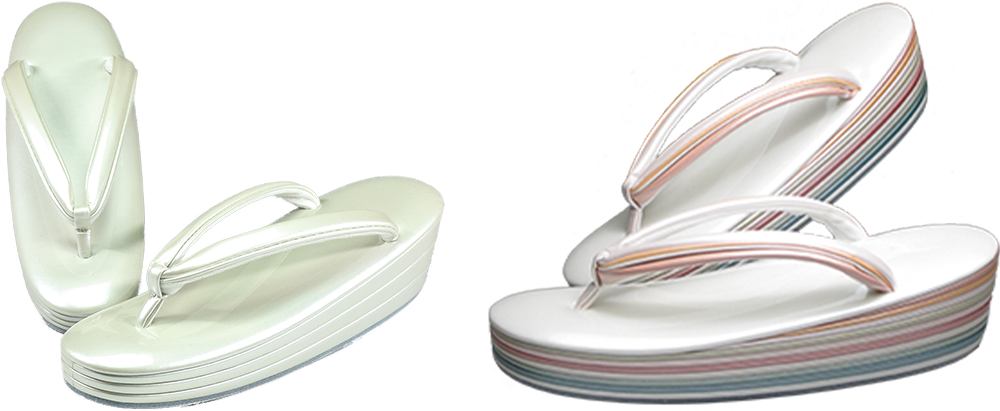 © Ginza Zenya All Rights Reserved.